News & Press Releases
New Product for Immediate Release
More Power & Features in a New Lightweight Two Speed Mag Drill


Hougen Manufacturing, Inc (Swartz Creek, MI) has released a new model of portable magnetic drill, the HMD905. This new model offers a major performance improvement to the mid-range line of Hougen magnetic drills. The HMD905 fills the gap with great power to weight ratio by giving steel fabricators more strength and torque while still maintaining the small lightweight footprint.

The HMD905 has a number of new features and innovations not seen on previous models of Hougen drills. The newest innovation is the mag drill pilot light. The LED light is built into the base of the magnet and allows the operator to more efficiently and quickly line up the pilot with the holes center location in low light or no light conditions. Powering the drill is a propriety two speed Hougen motor. The two speeds help maximize tool life and increases torque when using larger diameter cutters. The addition of a two stage magnet increases magnetic holding power by 30% when the drill motor is turned on. This saves energy and increases magnet life. A new arbor system utilizes a 5/8" slot drive for more rigidity, hole accuracy and quicker use of accessories such as drill chucks and tapping attachments.

The HMD905 has many additional features that make the drill easier to use; an integrated coolant bottle which is conveniently located and does not add to the width of the drill, a more robust housing design with an ergonomic carrying handle, a spot to hold the hex wrench, reversible feed handles and a d-ring on the back of the magnet for quickly attaching the safety chain. The drill also includes positive slug ejection and carrying case. A swivel base magnet is also available.

The HMD905 weighs just 35 lbs., measures 22-13/16"H x 7-11/16"W x 11-3/4" long and provides drilling capacities from 7/16" up to 1-5/8" (12-41mm) diameter and 2" (50mm) depth of cut. The drill has an electrical rating of 10A and 250/450 RPM motor. For safety the HMD905 incorporates Hougen's exclusive features to insure a safe work environment—including a no-adjustment safety switch, which shuts down the drill motor if lift of the magnetic base is detected...plus an LED indicator that monitors this sensor and alerts if an unsafe operational condition exists. A two stage power on switch prevents drill rotation unless the magnet has first been engaged, and, in the case of a power interruption, safety circuitry will keep the drill motor off after power is restored until the start button is manually depressed. The HMD905 is made in USA.
New HMD905 Magnetic Drill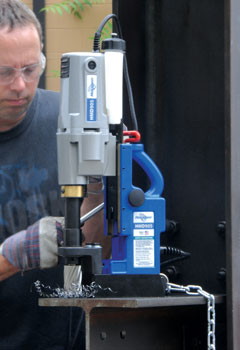 | | |
| --- | --- |
| | |