News & Press Releases
New Product for Immediate Release
NEW ROTACUT™ Sheet Metal Hole Cutter Combo Kit
Two kits in One Convenient Package
Hougen Manufacturing (Swartz Creek, MI), inventor of the Rotabroach® annular cutter and leading manufacturer for magnetic drills introduces a new RotaCut™ Sheet Metal Hole Cutter Combo Kit. The new kit (part no 11087) combines two of the most popular sheet metal kits, the small diameter kit (part no 11075) and the large diameter kit (part no 11078), into one convenient package. Included in the set are 13 sizes of RotaCut sheet metal cutters from 5/16" to 1-1/2".  RotaCut hole cutters can drill holes in materials up to ¼" or ½" thick depending on diameter.
They are ideal for use in all types of metal fabrication, maintenance and electrical applications, spotweld removal, plug holes for welding, and production environments.  The kit is packaged in a sturdy plastic storage case and includes two arbor assemblies, extra pilots, center punch, washers and instructions on use.  RotaCut's can be used in hand-held electric drills and in drill presses.
RotaCut sheet metal hole cutters are made of M2 H.S.S., hardened and precision ground.  The annular or hollow design cuts only at the periphery of the hole, leaving the center as a solid slug of material.  Because there is no center point or "dead zone" as with conventional hole making tools, the annular cutter configuration has demonstrated the ability to drill holes up to 3 times faster and last 10 times longer than twist drills or hole saws.  The cutters cut holes that are virtually burr-free and do not deform the surrounding material, even thin sheet metal. RotaCut hole cutters are made in the USA.
In addition to the new combo kit, Hougen Manufacturing provides machine shops, fabricators, erection and installation crews, and maintenance personnel with a wide range of holemaking equipment, from lightweight ultra-low profile drills to large heavy duty production style magnetic drills. Other products offered include a wide assortment of magnetic drill accessories that broaden their application potential, plus a wide range of Rotabroach® annular cutters, heavy-duty industrial annular cutters for machining applications, cutters for holemaking in sheet metal and plate, and Punch-Pro Electro-hydraulic Hole Punchers.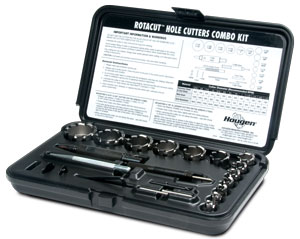 For additional information regarding Hougen products, visit www.hougen.com.
| | |
| --- | --- |
| | |