Less Power
Power consumption is a function of how fast a cubic inch of material is removed. This is broken down to area cut into chips or area factor (IN²) x how fast or feed rate (IPM) x how hard the material is to machine (K), or:

For Steel: K=1

For Cast Iron: K=1/2

For Aluminum: K=1/4

The efficiency of a tool is also a consideration. The efficiency of the cutting edge varies only slightly with most tools and is included in the "K" factor, so its effect is negligible in most instances. TiN coating is found to be one exception where significantly greater efficiency can be realized.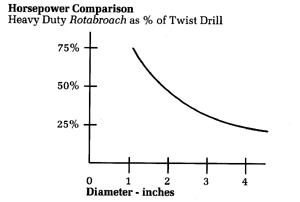 This table compares the performance of Rotabroach Cutters with two conventional holemaking tools. Note the lower horsepower requirements and significantly higher feed rates of the Rotabroach Cutter.
Cutting Tool

RPM

Speed (sfm)

Feed (ipm)

HP

Time of Cut (sec.)

Type

Dia. (inches)

No. of Teeth

H.S.S Twist Drill

2

2

237

124

3.6

11

31.6

H.S.S Rotabroach Cutter

2

10

245

129

7.58

10

9.0

Indexable Carbide Drill

2

2

1500

786

6.6

20

13.6

TiN Coated Rotabroach Cutter

2

10

285

150

8.5

12

7.5