Model 75006PR Electro-Hydraulic Hole Puncher

Now with Power Retract!


Our heaviest duty model, the 75006PR develops 26.9 tons of pressure and will produce up to 15/16" diameter round holes. In approximately 4 seconds, the 75006PR can punch through material up to 1/2" thick. Like all Hougen-Ogura Punches, its single body design makes it easy to use anywhere. Easily confirm the hole position with the jog down feature. Punch automatically returns to the starting position after the punching cycle is complete. If punch ever resists returning to the home position, squeeze the trigger for power feed return. The unit has eye bolts on both sides for easy attachment of a lift assist or a counter-balancer for improved ergonomics. Work stand, foot switch, 13/16" punch & die and tool kit are standard.


The new 75006PR uses different punches then the 75006. Dies from the 75006 still are compatible.




| | | | |
| --- | --- | --- | --- |
| Flat Bar | H-Steel | Angle | Channel |
75006PR SPECIFICATIONS
Part No. 0756102 - 120V

Pressure (Tons)
26.9
---
Approx. Punching Speed
4 secs
---
Max Hole Size - Round
15/16" - (23.8mm)
---
Max Hole Thickness - Round
1/2 " - (12.7mm)
---
Max Hole Size - Oblong
11/16" x 13/16" (18mm x 21mm)
---
Max Hole Thickness - Oblong
1/2" - (12.7mm)
---
Max Throat Depth
1-31/32" - (50mm)
---
120V 50-60Hz AC
13 Amps / 1460 Watts
---
Weight (less work stand)
62.9 lbs - (28.5 kg)
---
Shipping Weight
82.6 lbs - (37.5 kg)
---
Dimensions
20.59" L x 6.3" W x 18.23" D
* Hougen-Ogura Punches are designed for mild & structural steel, but can be used in other materials. Using in stainless or other materials significantly reduces the capacity. Consult Hougen Technical Support for questions about your
particular application: (810) 635-7111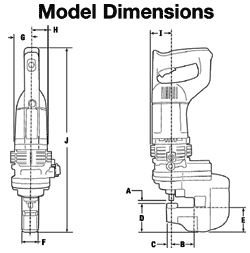 * Measurements in inches

| | | | | | | | | | | |
| --- | --- | --- | --- | --- | --- | --- | --- | --- | --- | --- |
| --- | A | B | C | D | E | F | G | H | I | J |
| 75006PR | .57 | 1.97 | .94 | 3.74 | 3.31 | 2.56 | 2.46 | 2.46 | 3.15 | 20.59 |